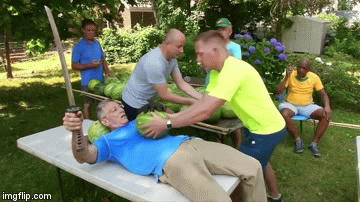 64-year old Ashrita Furman recently set the Guinness World Record for most watermelons sliced in half on his stomach in one minute, with a total of 27. For those of you unfamiliar, Ashrita is an obscure Guinness World Record chaser, and has set or broken over 700 records, with more than 200 still standing. No word if anyone in his family is proud.
The 64-year-old pitched the idea to Guinness officials after his record for most watermelons chopped on another person's stomach was bested in April. The friend he'd collaborated with in the past was busy this time around, so after with little bit of practice and meditation, Furman set out to do it himself.


"My first reaction is I'm relieved that I didn't kill myself," Furman told Reuters, "and the second is I'm exhilarated because it not only is a skillful record but also it's something that I invented and now it's out there and other people can challenge it."

Furman says he walked away with only a few minor cuts on his stomach. However, he cautions that this type of stunt is "really not safe" for amateurs.
First of all, the friend he collaborated with for the for the previous buddy-system stomach watermelon slicing record wasn't "busy" this time around, he was just smart. Secondly, you can't say this type of stunt is "really not safe" just for amateurs when it's not safe for professionals either because there's no such thing. Still, I think we can all agree the real world record set here is the world's oldest man who thinks he's a picnic table.
Keep going for a video of the record setting in progress while I brag to any coworker who will listen that I could have done way more, easy.
Thanks to Allyson S, who