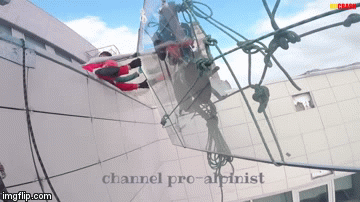 This is a video of a window being replaced on the 47-story Wellhouse tower in Moscow when the entire replacement window is dropped on its way to the roof. Thankfully (I think), the window hits the side of the building about halfway down and shatters instead of waiting to hug the ground. Now I'm no skyscraper window replacement expert, but I don't think any of that was supposed to happen. But like I said, I'm no expert. Maybe, just like making an omelet, you have to-- "You don't have to break a few windows to replace a window." But we don't know that -- best to leave it to these experts. I'm joking, let me do it, I just need a helicopter and four octopuses.
Keep going for the video, actual drop happens at 1:30, followed by some slow motion action.
Thanks to Josh F, who's convinced there's an insurance scam here somewhere. You know what? I did notice a recent life insurance policy for a Mr W. Pane.