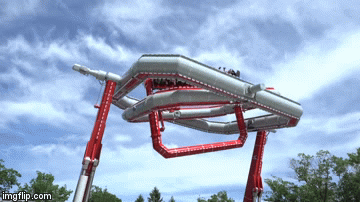 This is a video (including some first person onboard footage -- I'm pretty sure that guy in the middle is going to pass out) of the new Cyborg Cyber Spin ride at Six Flags Great Adventure in Jackson, New Jersey (previously: an identical ride built in Switzerland). *shrug* I guess some people find having to constantly fight the urge to puke is a fun thing to do, and not the unfortunate way of life that I'm forced to live with. I can't even ride the bus anymore without getting the ookie pukies. "You're a delicate creature, GW." I'm like a butterfly caught in a tornado. "And is my love that tornado?" You know it is.
Keep going for the video while I take a few Dramamine pills. "You know those aren't suppositories, right?" I know what I'm doing.
Thanks to hairless, who agrees there must be so much partially digested funnel cake under that ride.