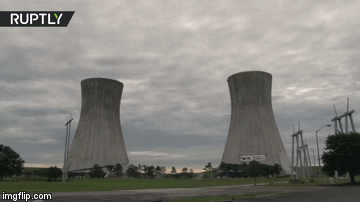 These are several videos from different angles of the implosion of two twin 33-story cooling towers at Jacksonville, Florida's now defunct St. Johns River Power Park (which, SAD MEMORY FACT: is where my parents used to take me instead of Disney World when I was a kid) thanks to 1,500 pounds of dynamite. Glorious, isn't it? It was almost enough to make me wish I could legitimize my own demolition business. "What do you mean?" You know, it's just frustrating not being able to take credit for such a glorious fire after all the work that I-- wait, are you a cop? Because you have to say you are if you are.
Keep going for the videos.
Thanks to Marco, who agrees running a successful demolition company and making good money doing it is definitely a dream job.
Read More:
breaking things
,
demolition
,
destroying things
,
electricity
,
explosion
,
florida
,
goodbye
,
i'm in the wrong business
,
implosion
,
kaboom
,
man i need to go to one of these large scale demolitions in person i want to feel that explosion in my guts
,
man you know how i feel about demolition
,
now you see it now you don't
,
power
,
timber!