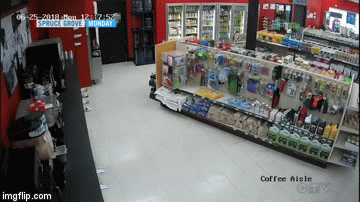 You forgot your shoe!
This is a video news report about a potentially meth-fueled couple who attempted to use a stolen credit card to buy soda (and that's all) at a convenience in Spruce Grove, Alberta, Canada. After the store owner calls police and they arrive (and the couple frantically search for a way out), the boyfriend attempts to push his girlfriend into the officer and make an escape, which fails (and probably ruined their relationship). The store owner then jumps in to help, who helps subdue the male while the chick runs into the back of the store and climbs some shelving to crawl above the ceiling. The rest, my friends, is security cam gold-star history. I'm pretty sure I want this gif on my tombstone.
Keep going for the news report, as well as a video of the raw security cam footage edited to all the action (complete with Benny Hill theme), which is even more worth watching, while I speculate when Florida Man and Woman defected to Canada.
Thanks to ClosetNerd and K Diddie, who know what I like, and I like criminals hurting themselves. It's almost a fetish.