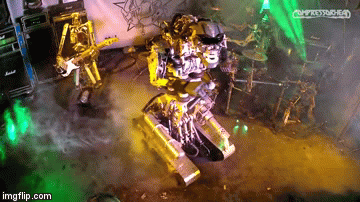 This is a video of robotic metal band Compressorhead (previously posted back in 2013, apparently not just a one-hit wonder) performing with the addition of their new lead singer, Mega-Wattson. From what I gathered, they appear to be a metal version of the ShowBiz Pizza band, but without all the faux fur. No word how many pairs of scrap metal panties Mega-Wattson has already had thrown at him on stage, but I'm gonna throw a socket wrench. Then wait for him to stage-dive and make the audience part like the Red Sea. "You're gonna be a groupie." I've already bought all their merch.

Keep going for a video of the band performing a song off their newest album Party Machine, as well as a short promo video of Mega-Wattson making a pool shot.
Thanks again to John S, who agrees a real metal band would self-destruct at the end of a performance.