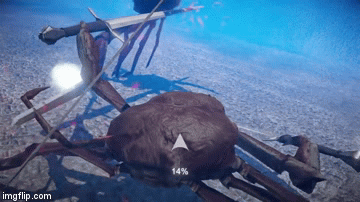 This is some alpha gameplay footage of Kani no Kenka (aka FightCrab, not to be confused with Fight Club, which we shouldn't even be talking about) from Japanese game developer Nussoft. The game will feature crab versus crab battles in a variety of locations with a bunch of different weapons including swords, a morningstar flail, electricity, and good old fashioned claws. It doesn't look like a particularly fun game, but it does look like a particularly unusual game. Will I still play it to settle drunk arguments with friends? Probably. "How do you settle an argument with a video game?" Whoever wins the match was right. Unless I lose, in which case I demand a rematch for ultimate rightness. If I lose that I break my beer bottle and attack physically. I've never been wrong yet.
Keep going for the video.
Thanks to Richard K, who wants to know what the bonus stage looks like. Hopefully trying to make it off a table at a seafood restaurant.
Read More:
animals
,
count me in
,
crabs
,
doing battle
,
fight! fight! fight!
,
fighting games
,
heck yeah
,
little pinch?
,
sealife
,
so that's what that looks like
,
swords
,
under the sea
,
video
,
video games
,
weapons
,
what did you call my girl?!
,
what will they think of next?
,
you know how i feel about doing battle