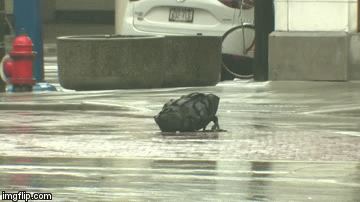 These are several videos of a Milwaukee bicyclist who speeds past police and the yellow tape they put up around a suspicious backpack, quickly emptying its non-lethal contents onto the street before getting bum-rushed and tackled by officers. Weird, and I half expected them to shake his hand and award him a medal of valor.
"He rode past me and he was saying, 'I'm going to defuse this situation," [Robert] Harris [the man who called in the suspicious backpack] said. "I was concerned for everyone still around but really concerned for him. He was not acting in his right mind. If I would have saw him coming down the sidewalk earlier, I would have tried to stop him. It's a scary situation. You don't know if it's a bomb or backpack. When he went and did it, I thought oh no. It's not going to end well. It's going to end bad."


The FBI assisted on the scene but Milwaukee Police arrested the man. Police have not released any other information at this time.
They arrested him? Because they should have offered him a position on their bomb squad immediately. Clearly this man is a PRO DIFFUSER. Is he ex-military? He looks like he was probably special forces to me. "He's just a crazy person." That's always a possibility too.
Keep going for the videos, the second two of which only focus on the tackle.
Thanks to science, who agrees he must be wearing his cape under that jacket.