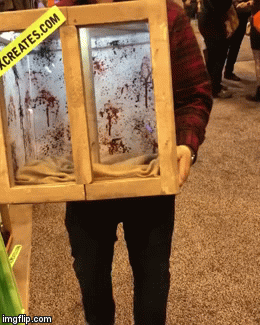 Note: Watch your volume on the videos.
These are several video demonstrations of the Banshee Box created by the folks at VFX. It looks like an empty, blood-splattered box, but opens to reveal a screaming banshee head lunging at you whenever the person carrying the box desires. That's fun. Unfortunately they cost around $1,450, which is a little out of my Halloween budget this year. Truthfully, I don't even have a budget, I always just make my costume Halloween day out of whatever I have laying around the house. "What were you last year?" A window curtain. "And the year before that?" A couch cushion. "How did that work out for you?" Six people sat on me! "My my." The last one broke ribs.
Keep going for the videos.
Thanks to Courtney G, who knows what I like, and sent this anyways. You know that's too scary for me.