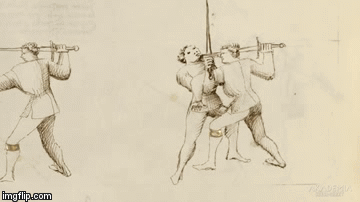 This is a video of two dudes going medieval on each other's asses while demonstrating a variety of authentic middle-age longsword attacks based on old illustrations (including both one-handed and two-handed sword attacks). They really go at each other too. I liked that. I'm half tempted to text and see if any of my friends want to get together this weekend for some cold ones and a little light swordplay. They won't though, because they're no fun. "Plus they don't exist." You're all I have and you hate me. Just think about that.
Keep going for the video while I talk like a knight and swing a roll of wrapping paper around the office.
Thanks to Douglass S, who knows what I like, and I like doing battle.
Read More:
awesome
,
boners all around!
,
doing battle
,
duels
,
fight! fight! fight!
,
fighting
,
fighting to the death
,
heck yeah
,
i learned all these moves just by watching the video once
,
interesting
,
just like old times
,
oldschool
,
so is this for the honor of a fair maiden or what i want the deets
,
swords
,
weapons
,
you know how i feel about doing battle!