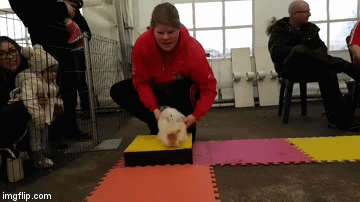 This is a video of very beautiful BrandyWine the rabbit playing by her own rules during a timed jumping agility course at the Calgary Zoo. She's smart -- so smart I heard from a little birdie that all the horses are thinking about doing the same thing. Look out, Rise Of Dawn Of The Inception Of The Conception Of The Planet Of The Apes -- GW just wrote a new animal uprising movie! I think I'm going to call it 'SecretariaNOT'. "Secretariat was a racehorse, this is about show jumping." Are you being serious right now?
Keep going for the video while I kick the office door off its hinges in solidarity.
Thanks to Allyson S, who agrees he should have just bee-lined it for the finish line and a carrot.