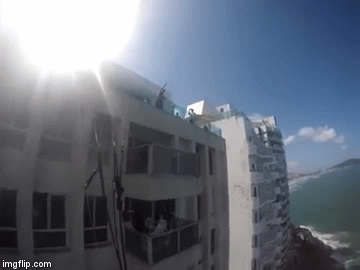 This is a short video of a paraglider grabbing a brewski from a man drinking some cold ones with friends on the roof of a fifteen story condo building. I don't think the paraglider actually knows them, and It was definitely a dangerous thing to do. Maybe not as dangerous as my everyday life, but I get paid $5.50 an hour to stick my head in a shark's mouth during the Ocean's Deadliest Dwellers show at the Tennessee Aquarium in Chattanooga.
This guy was paragliding near a high-rise building when someone on the roof offered him a beer. After moving closer to the building, he leaned over and grabbed the can before flying away and drinking it over the ocean.
Are you even allowed to drink and paraglide? Because I got in big trouble for just drinking and riding shotgun in a friend's Power Wheels Jeep once. "You were six and doing donuts in your teacher's yard." Nobody makes me repeat kindergarten twice.
Keep going for the video.
Thanks to Devon, who agrees there's nothing you can't achieve if you dream it and chug three beers first.
Read More:
alcohol
,
beer
,
booze
,
cold ones
,
dangerous
,
drinking
,
drinking things
,
having a great time
,
he seems pretty happy with himself
,
living the dream
,
ocean
,
paragliding
,
so that's what that looks like
,
stunting
,
sure why not
,
trying hard and believing in yourself
,
video
,
yeah you did
,
you do you