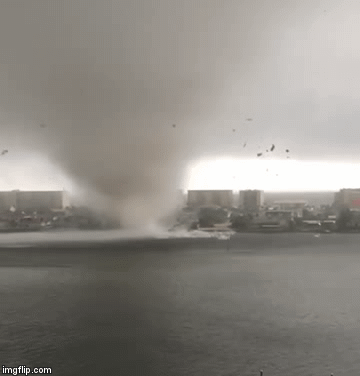 This is a video captured by Dave of Fort Walton Beach, Florida of a waterspout forming and proceeding to wreak some havoc (you know I love havoc) while his wife yells for him to get inside. I probably would have listened to her. In his own words while I call my girlfriend and promise to do whatever she says from now on as long as it doesn't involve other people's weddings or pants:
"I was getting ready to put some steaks on the grill, looking at the sky and I noticed it looked rather ominous. I ran back inside, asking Kathy to take our dog and head to the guest bathroom while I grabbed my cell phone and headed back to the balcony. While I got the phone unlocked and into video mode the waterspout started forming, but as it turned out we were able to catch early in it's transformation and caught it makes it way from the gulf, over Okaloosa Island, across the sound and into Fort Walton Beach proper."
Admittedly, that looked pretty terrifying as it made its way towards their condo. I'm not sure I would have stayed out there filming except you absolutely know I would have, the whole time yelling, "IS THAT THE BEST YOU'VE GOT, GOD?! BRING YOUR WORST!" Of course that's just me and I've heard authentic yellow brick road bricks are worth their weight in ruby slippers on eBay.
Keep going for the video while I write Dave to find out if those steaks ever got cooked.
Thanks to NH, who would have punched that waterspout right in the eye and told it to go back where it came from.