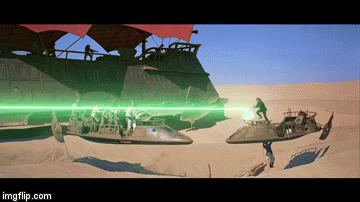 This is the song and music video for the Auralnauts' title track from their new album 'The Last Laser Master'. The music video is an edited version of the Battle of the Great Pit of Carkoon scene from Return Of The Jedi, complete with Luke swinging an infinitely long lightsaber. The whole thing was weird, but enjoyable, kind of like the first time you and your partner try swinging. "Wait, what?" *puts hand-phone up to head* Call me.
Keep going for the video, but check out all the links on the video's Youtube page if you want to hear more or download some tracks.
Thanks to DanTheMan, who agrees if you're going to be a master of something, lasers aren't a bad choice. Neither is carpentry.