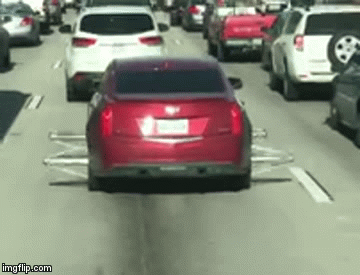 This is a short video of a Cadillac spotted in Houston, Texas with wire rims protruding further than a foot out from each of its wheels. It's a perfect example of how to do it completely wrong. Although, I don't have much room to talk, I rock spokey dokes on all my rims and a baseball card between the spokes of my back wheel. "You're talking about your bike." No, I'm talking about my Ferrari. Of course my bike I've never even had a driver's license, but only because I refused to take my mask off for the photo. "Plus you failed the driving test." That creek came out of nowhere.
Keep going for the video.
Thanks to Luc, who agrees they should at least shoot flames.