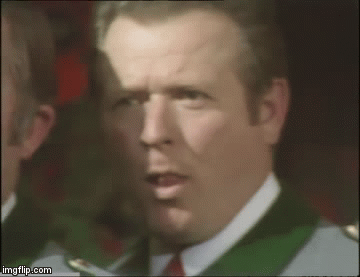 This is an old video of a Tyrolean orchestra (from the Austrian state of Tyrol) performing a weird tongue-flicking a capella performance of composer Franz Mika's 'A Gaudi Muss Sein', (presumably 'I Want You In My Mouth'). At first I thought it was an old Saturday Night Live or Monty Python sketch. It's not though, it's a real thing. So -- which one do you think is the best kisser? After careful consideration, my money's on numbers 5, 6 and 21. If I had to pick just one though I think I'd go number 5. "You've clearly given this a lot of though." I like to think about the things that really matter.
Keep going for the whole video and pick your favorite.
Thanks to K Diddie, who agrees this is entirely too much sexiness for one 32 second video.
Read More:
body parts
,
encore! encore!
,
free bird!
,
hmm
,
imagine the groupies!
,
interesting
,
meanwhile 35 years ago in austria
,
mouth
,
orchestra
,
singing
,
so that's what that looks like
,
song
,
songs
,
video
,
we're getting the band back together
,
well how about that
,
wtf was that?! (and where can i find more)