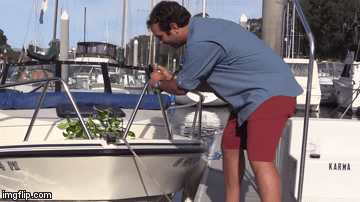 This is a video demonstration of a boat being christened with a $15 Galleyware
Christening Bottle, a fake bottle of champagne (it has bubble bath in it or something) that's pre-scored to easily break when you whack it against the bow of your new boat. The official product description while I drink a bottle anyways because I've already forgotten it isn't real champagne:
Save the real champagne for guests and break this special christening bottle on your vessel's prow. The bottle is scored around the middle and housed in a net to ensure that your first swing is a smashing hit. The result: cheers from the crowd when an impressive-yet safe-spray of imitation bubbly celebrates your boat's dent-free debut.
Yeah, I can't imagine Neptune being all that thrilled about your sacrifice of soapy water. That sounds like a great way to get sunk surrounded by sharks. The sea gods demand booze. Also, if your boat can't survive a blow from a real bottle of champagne, was it really seaworthy to begin with? Food for thought. In this case, breaded fish sticks.
Keep going for the video, which was surprisingly entertaining. Highlights include reading a poem ("Roses are red, violets are blue, I'm lucky to go boating with all of you") and the 'unveal'-ing of the boat's name (A Boat That Has No Name -- wait, what?).
Thanks again to Stephanie B, who
Read More:
an offering to neptune for safe voyage
,
boats
,
booze
,
breaking things
,
champagne
,
different strokes for different folks
,
hmm
,
i'm on a boat
,
interesting
,
making sacrifices
,
naming things
,
niche marketing
,
oh wow
,
real products that exist
,
sure why not
,
the ocean
,
traditions
,
well how about that!