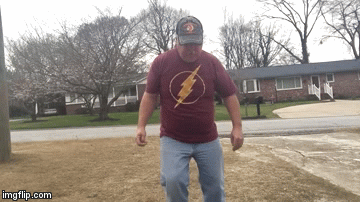 Seen here making it crystal clear to neighborhood kids that his lawn is not to be got on, this is a video of a nunchuck swinging Flash letting his inner ninja shine in the pale gray of a Taylors, South Carolina afternoon. The video starts with him repeatedly failing to kick the nunchucks up into his hand, but once he finally grabs them he really starts swinging. So well the nunchucks actually get pregnant and give birth behind his back. I wish I could say the same thing with my ninja stars -- I'm always losing him. Do you have any idea how much money I've spent at the knife and sword kiosk at the mall? "Your entire allowance?" Since 2011. The only thing that would have made this video better is if his kids were getting off the school bus at the end.
Keep going for the video.
Thanks to LK, who agrees it's only a matter of time until this guy is touring nearby neighborhoods with his ninja exhibition.
Read More:
heck yeah
,
how you like that trick clown?
,
i am into this
,
living the dream
,
living your best life
,
man why don't i have cool neighbors?
,
ninja
,
nunchucks
,
oh wow
,
sick
,
skills
,
superheroes
,
the flash
,
video
,
weapons
,
wicked skills
,
you do you
,
you should have through a couple kicks in at the end i'm just saying