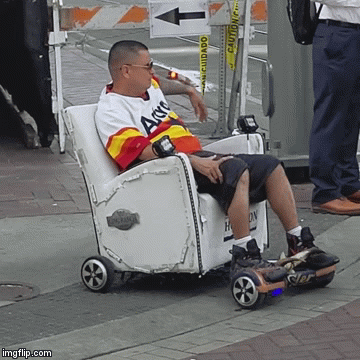 This is a video of a Houston man crossing the street in his homemade mobility chair, constructed from what appears to be a late model pedicure chair and a few hoverboards. If you look closely it appears to be a Ford King Ranch edition. It also appears to have floodlights and strings of LEDs glued all over the sides. It's a shame he didn't turn those on. Now I've got the sneaking suspicion this man doesn't work for Tesla, which is a shame because he's clearly an innovator in electric transportation.
Keep going for the video while I build my own.
Thanks to Nate, who agrees he just needs to figure out a way to pilot that thing with the foot rest up and we're in business.
Read More:
because walking isn't for everyone
,
chair
,
getting around in style
,
hot dog
,
hoverboard
,
innovation
,
mobility chair
,
nice wheels
,
now you're talking my language
,
sitting down
,
smart thinking
,
so that's what that looks like
,
sweet
,
sweet ride
,
that's it i'm building one i don't know how i've lived so long without this but that might explain the depression
,
transportation
,
video