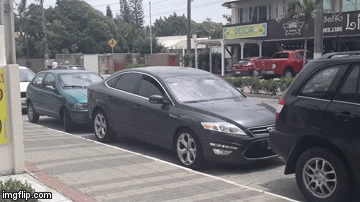 This is a video of a Ford Mondeo in Santa Catarina, Brazil that was modified with a lowerable fifth wheel in the rear so it can easily pivot its way in and out of parallel parking spots. If you're not familiar with the concept (which has actually existed in several different forms since the 1950's), I included another video of a car with a similar device viewed from a much better angle that makes it crystal clear what's going on. Now if only I'd had a car equipped with this during the parallel parking portion of my driving test, maybe I wouldn't have failed three times. "You hit every single cone." Whatever, that should have only been like a couple point deduction. "And backed over the test administrator." I think that was the real kicker.
Keep going for the videos.
Thanks to Alan Amigo, who agrees you ain't shit until you can drift into a parallel parking spot above 30MPH.
Read More:
but why?
,
cars
,
hocus pocus
,
magic
,
mods
,
parallel parking
,
parking
,
real things that exist
,
so that's what that looks like
,
sure why not
,
video
,
vroom vroom
,
you've got a fast car i want a ticket to anywhere maybe we can make a deal maybe together we can get somewhere (i'm thinking the mall)