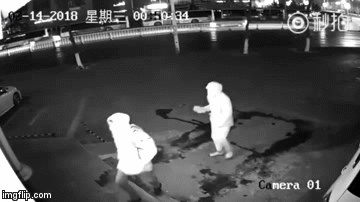 This is some security cam footage released by police in Shanghai, China of two would-be burglars trying to shatter a shop window with bricks when one accidentally shatters the other's consciousness instead. Although, to his credit, the other guy did run right in front of his throw. You're supposed to stand behind the thrower for safety, everybody knows that. This is just some all-around sloppy burglary. At least his friend tries to drag him away no-man-left-behind style instead of leaving him for the cops -- at least there's that. Out of a possible Ocean's Eleven I give them them a Kiddie Pool's Two, but only if ol' brickhead here actually survived to burgle another day.
Keep going for the whole video.
Thanks to Ken Yourface, who agrees the key to not getting hit in the head with a thrown brick is never being in front of one.