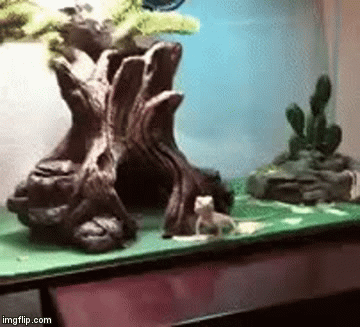 This is a super short video of a baby bearded dragon that appears to wave back to its owner. Is that really what it's doing? I mean there's no way, right? Is this computer graphics? This is computer graphics, right? Or maybe -- MAYBE -- somebody's been watching *putting on cool guy sunglasses* How To Train Your Dragon. "Enough with the cool guy shades." Stupid is all I know.
Keep going for the video which is the same as the gif just way clearer and more vertical.
Thanks to blue16, who agrees somebody is raising a very well mannered bearded dragon.
Read More:
animals
,
being polite
,
body parts
,
but can you do a queen's wave?
,
having a great time
,
heck yeah let's get this guy to a baseball game stat
,
herpetology
,
how to train your dragon
,
impressive
,
interesting
,
manners
,
oh hai!
,
pets
,
reptiles
,
waving
,
well hello there and how are you doing today?