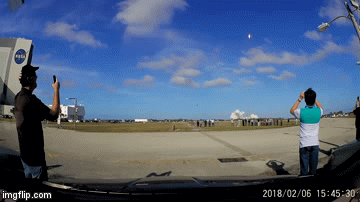 This is a video from the dash cam of some SpaceX Falcon Heavy rocket launch spectators in a parking lot 3.26 miles away from the launch site. The power of the rocket makes the whole car rattle. Man, like the bass dropping at my favorite club, I wish I could have felt that rumble in my nuts. "There is no way you go to clubs." Only Club Med. It's not really for swingers but I still run into plenty there. "You swing, GW?" Only battle axes at my enemies. "You're so confusing." Here's an extra key-card to my room, my wife and I should be back from the spa around seven.
Keep going for the video.
Thanks to Gori, who agrees straddling that rocket during liftoff would have been one hell of a treat for your prostate.