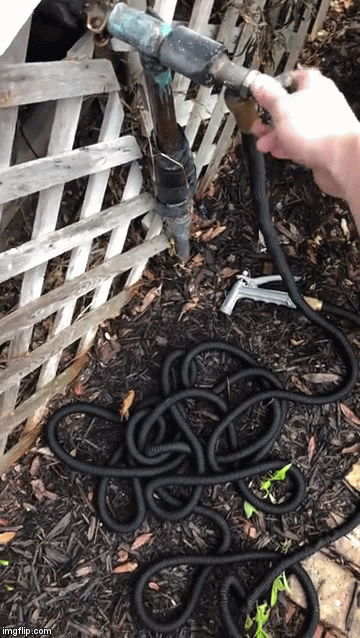 This is a short video of somebody filming their expanding garden hose as it fills with running water. It kinda reminds me of the Sentinels' tentacles in the Matrix. Or an alien coming to life. Of course you're probably desensitized to the demonhose because you've had one like this forever. MUST BE NICE. Some of us aren't so lucky to have homes with outdoor faucets and grass and a garden to water. Granted I could probably buy an adapter to hook one of these up to my kitchen sink, but what's the purpose, my water was disconnected for nonpayment almost two weeks ago. Ahahhahahaha, God I'll be crying in an empty bathtub later.
Keep going for the whole video.
Thanks to DT, who agrees that's definitely how garden hoses get stabbed with a shovel or pitchfork.
Read More:
aliens
,
expanding
,
fascinating
,
freaky deaky
,
gardening
,
i could watch this all day
,
life goals
,
one day i am going to own one of these and on that day i'll know i've made it
,
quick -- stomp on it before it can spread!
,
snake
,
so that's what that looks like
,
still beats watching paint dry
,
video
,
water
,
worms
,
wow