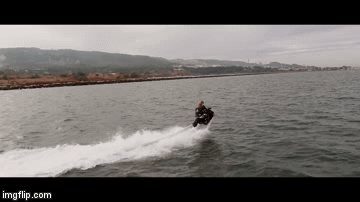 This is a promo video for the Zapata Flyrider (previously from Zapata), a cross between a jet ski and water hoverboard. Thanks to gyroscopic stabilization the unit is self-balancing, and can even perform automated barrel rolls. You can pre-order one now for $6,000 if you want, but you have to promise I get to ride on the back and squeeze you real tight on our maiden voyage. I'll never let go, Jack.
The Zapata Flyride is designed to make hydroflight accessible for beginners and offer new thrills for extreme riders. It achieves this by combining the familiar form and controls of a personal watercraft with Zapata's latest advancements in computer aided flight control and gyro stabilization - the same technology developed for Zapata's groundbreaking Flyboard Air™ and EZ-Fly™ jet powered craft.
Looks like fun. Of course I've never even ridden a jet ski or a water jetpack or hoverboard before so what the hell do I know? "Very little." FACT. It's weird though because if ignorance truly is bliss then why am I so miserable all the time? "Maybe it's your anger issues?" What the -- can somebody cut this person for me, please? Man, I can't wait till I have my own tropical island away from people and with all sorts of fun toys like this, it's going to be so sweet I can see it now it's never going to happen I give up.
Keep going for the high-flying video.
Thanks to Justin PL, who agrees somebody needs to develop a water cannon that can shoot you out into the ocean like a circus performer.