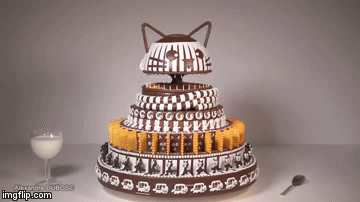 This is a video of Gâteau Gato, a cat themed spinning zoetrope cake created by artist and pastry chef Alexandre Dubosc. It features a bunch of animated cat imagery as it spins including Felix the Cat walking, a Japanese good luck Maneki-neko cat waving, and the cat bus from My Neighbor Totoro. It's so cute and creative you'd almost feel bad about eating it. "You literally just took a giant scoop with your hand." Hey *seductively licking fondant from between fingers* I said almost.
Keep going for the full video, which is being played in real-time.
Thanks to Christina C, who agrees animated cakes are cool, but my patent-pending indoor fireworks display is going to be the real next big thing at weddings.
Read More:
animals
,
animated
,
animation
,
cake
,
cats
,
dessert
,
i must have one at my next birthday
,
impressive
,
let them eat cake
,
look at felix struttin' that ass!
,
meow?
,
neato
,
pets
,
so much fondant
,
so that's what that looks like
,
that looks like it was time consuming
,
things that look like other things
,
video
,
zoetrope