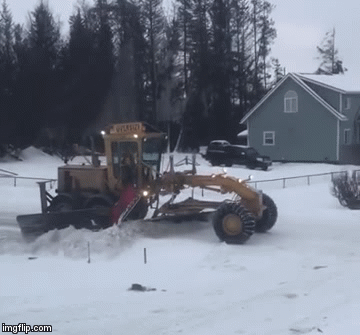 This is a short video of a snowplow in Alaska that has an additional blade that can be lowered to block snow from being plowed into driveways. Pretty clever. I remember when I lived somewhere much colder there was nothing worse in the winter than watching the snowplow come along only to block in your driveway then purposefully obliterate your mailbox and, Jesus -- is he doing donuts in my yard?!
Keep going for the full video just in case the gif wasn't enough even though I made sure it met the recommended daily allowance. Also, what's up with those two ghosts in the sky at 0:11?
Thanks to Samantha BS, who agrees it would be even cooler if it did it with flames.
Read More:
aha!
,
alaska
,
clever
,
cold
,
ingenuity
,
neato
,
nothing quite like standing in your front window filming the snowplow go by is there? that's what i call living the dream
,
problem solving
,
smart
,
snow
,
so that's what that looks like
,
solving problems
,
that was cool
,
video
,
why didn't i think of that?
,
winter