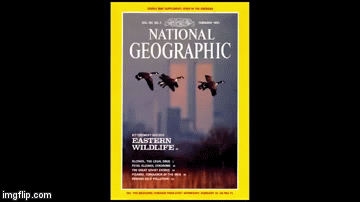 PROTIP: Hit pause occasionally.
To celebrate their 130th anniversary this year, this is a video released by National Geographic of every single one of its covers since the magazine's inception in 1888. I thought it was interesting they didn't start regularly using graphics and photos on the cover until the 1960s. Prior to that there it was just text and the occasional American flag. I still remember a lot of those 90's covers. I used to get National Geographic when I was a kid because when I grew up I was going to be an INTREPID WORLD EXPLORER. "How did that work out for you?" The Indiana Jones lifestyle is a lie sold to us by George Lucas and Steven Spielberg.
Keep going for the video.
Thanks to Lyndsey P, who agrees the dinosaur issues were the best issues.
Read More:
adventure
,
anniversary
,
birthday
,
congratulations
,
earth
,
i have a friend from college who works for national geographic in washington dc i wonder how she's doing
,
learning
,
looking at pictures
,
magazines
,
milestones
,
national geographic
,
our world
,
reading things
,
science
,
so that's what that looks like
,
video