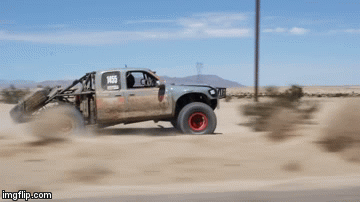 Note: Keep your volume down, camera's noise-canceling microphone not nearly as impressive as truck's suspension.
This is a video of an off-road racing trophy truck speeding alongside the road and demonstrating its very impressive suspension system. Man, if my car had suspension like that maybe I wouldn't be where I am today. "Where are you today?" In a ditch. It's cool though, I made friends with a raccoon. It ate right out of my hand! Well, technically it took a bite right out of my hand. "You probably have rabies now." Just like I always wanted when I was a kid.
Keep going for the video.
Thanks to SpeedFreak, who's hopefully into extreme velocity and not meth.
Read More:
fast
,
having a great time
,
heck yeah now let's rob a wild west bank!
,
offroad
,
roads? where we're going we don't need roads
,
so that's what that looks like
,
suspension
,
transportation
,
truck
,
video
,
vroom vroom
,
whee!
,
yeah doggies!
,
you've got a fast truck i want a ticket to anywhere maybe we can make a deal maybe together we can get somewhere