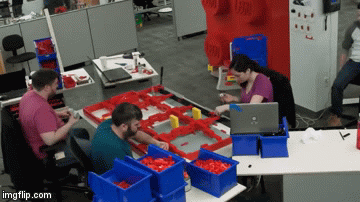 This is a short timelapse of four LEGO Master Builders at the company's US headquarters in Enfield, Connecticut constructing a giant 10-foot, 1,200-pound, 133,000 piece replica of a 2 X 4 brick to celebrate the LEGO Group's 60th anniversary. It took over 350 hours to complete, although I'm not sure if those are people-hours or total hours. Whatever the case, I'd love the opportunity to run and tackle that thing as full speed. Do you think I'd break it, or do you think it would break me? "It would break you." Trick question, I'm unbreakable. One time I got hit by a garbage truck, you know what happened? Trash went everywhere. That garbage truck lives in a landfill now.
Keep going for the video.
Thanks to Dunc, who agrees they should have made a bunch of those bricks and built a skyscraper out of them!
Read More:
anniversary
,
building things
,
celebrating things
,
company
,
huge
,
jobs
,
large
,
lego
,
legomaniacs
,
living the dream
,
modular
,
must be nice
,
plastic
,
so that's what that looks like
,
sometimes i wish i'd pursued a career in lego master building
,
sure why not
,
timelapse
,
video
,
wait -- did those people get paid for that?!