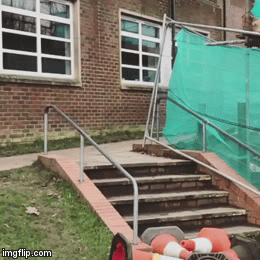 This is a short Instagram video of BMX biker Daniel Bungay standing up a pile of carefully arranged parking cones with a little hop off a handrail. Smooth moves. Unfortunately, when reached for comment about Daniel's stunt, six motorists were getting their right-front tires replaced after driving into an unmarked pothole.
Keep going for the video in case the gif wasn't good enough for you.
Thanks to Wimpy, who agrees you know it's a going to be a good barbecue when you get there and somebody is already drinking out of a parking cone.