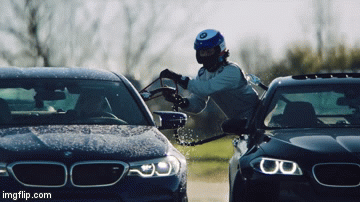 This is a video of a BMW M5 setting the Guinness World Record for longest time drifting in an 8-hour period by refueling five times during a single uninterrupted drift via a man with a fuel hose hanging out of another drifting M5. Apparently the rules actually allow you to stop to refuel, or use an oversized gas tank, but BMW thought that would be too easy (and I felt that would not be worth watching), so they decided to go with the mid-drift refueling method. They demolished the previous record of 89.55 miles with a staggering 232.5 miles over the course of eight hours. That's a lot of drifting! Afterwards, they also set the record for longest tandem drift, with a one-hour 49.25 mile slide. Clearly, somebody has been watching too much The Fast And Furious: Tokyo Drift. And that person is me -- please, somebody come turn it off and make me to go to work before I get fired or Netflix calls me out on Twitter.
Keep going for two videos, the second of which is a longer behind-the-scenes video with more details about the record and their method.
Thanks to Nick R, who came up with the idea of fast-food restaurants offering a drift-delivery service during work commutes. Heck yeah, I'd drive for Taco Bell.