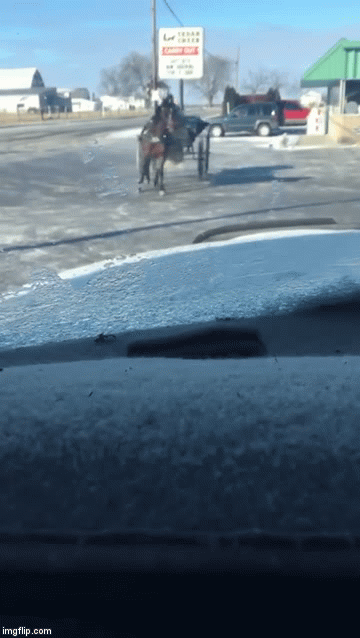 This is a vertical video of an Amish horse-drawn buggy doing donuts in the frozen parking lot of the Cedar Creek Carry Out liquor store in Grabill, Indiana. Were those donuts intentional? I couldn't tell. Also, what's this guy doing at a liquor store? I have so many questions but no answers. "Welcome to life." When I was a kid I thought when I grew up I'd have all the answers. I don't though, I just have all the health problems they sell drugs for in the commercials during Jeopardy and Wheel Of Fortune.
Keep going for the video.
Thanks to hairless, who agrees we should all synchronize our watches then go do donuts in the parking lot at the same time and see if we can stop the world from turning.
Read More:
animals
,
buggin' out in your buggy
,
cold
,
count me in
,
driving around having the time of your life
,
everybody loves donuts
,
frozen
,
having a great time
,
heck yeah
,
heck yeah now let's have a drifting competition
,
horse
,
living your dream
,
so that's what that looks like
,
video
,
whee!
,
wheels
,
winter