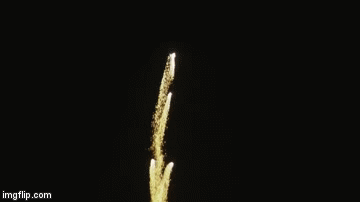 This is a video of the new world's largest mortar firework being launched, a massive 56-inch shell weighing 2,200 pounds. The gigantic firework was produced by US-based Grucci Fireworks and shipped to Ras Al Khaimah in the United Arab Emirates for the show. Hopefully somebody slapped a 'WARNING: FLAMMABLE' sticker on the shipping container.
The previous world record, held by Japan since 2014, is a 1,204 pound shell with a diameter of 48 inches.


This new record launched into the sky over Al Marjan island by a 7 metre mortar, weighing 15,000 pounds and buried 4 metres into the sand.

The shell spectacularly detonated at a height of 2,200 feet.
Impressive, but I feel like the actual display of the two previous world's largest fireworks (HERE and HERE) were more spectacular. Maybe not as big, but more spectacular. Also, what does a guy have to do to get to ride one of these fireworks into the sky? That would be pretty sweet, right? Plus we could set two records simultaneously: world's largest firework and *putting on aviator goggles* world's coolest dude.
Keep going for the video, firework launch starts around 1:05, then there's some discussion about the firework and prep video that follows (including a nice shot showing just how large the shell is around 4:15).
Thanks to Davey, who informed me if you do what you love, you never work a day in your life. Yeah well I love fireworks, how do I make that happen?
Read More:
beautiful
,
brings a tear to my eye
,
fire in everyone's holes!
,
fire in the hole!
,
fire in your hole!
,
fireworks
,
fireworks are the best work
,
gigantic
,
glorious
,
huge
,
kaboom
,
large
,
now you're speaking my language
,
that's cool but i'm making a six-footer and probably on a government watch list
,
video
,
world record
,
world's