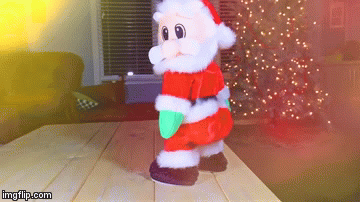 Because some people have a completely different concept of taste and decency, this is the 'Twisted Wiggle Hip Twerking Christmas Santa Singing Electric Toy' available for around $13 on Amazon. Santa runs on 3 AA batteries (not included) and "can sing the Spanish song 'Ginza' by J Balvin as well as wiggle his hips." Obviously, there's no way the elves in Santa's workshop are building these things, because there's no way Santa would have approved them. "I don't think you're ready for this jelly!" Santa?! "Guess again." Mrs. Claus! My god you smell like fresh-baked cookies, you should ditch that fat man and move to Florida with me.
Keep going for a video of Santa adding himself to his own naughty list.
Thanks to trent w, who agrees this will go perfect next to that pull my finger Santa that shouldn't exist either.
Read More:
christmas
,
dancing
,
getting in the christmas spirit
,
ho ho ho
,
i've seen it all now
,
oh wow
,
one time i forgot to leave cookies and milk for santa and he didn't bring anything true story i hate him for it and boobytrap my chimney every year trying to catch him and beat some presents out of him
,
real products that exist
,
santa no!
,
taste and decency
,
tis the season
,
toys
,
twerking
,
what are doing?!