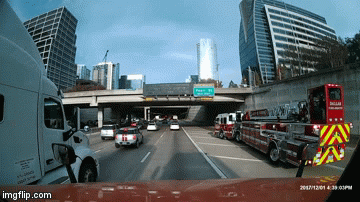 This is a video of a firetruck smoothly gliding across four lanes of rush hour traffic in Dallas, Texas thanks to its steerable rear axle. I like how the guy in the vehicle that's filming drops a "What the f***?....That was pimp," like he's some sort of badass and wasn't just in the middle of blasting Mr. Big's 'To Be With You.'
Keep going for the whole video.
Thanks to n0nentity, who was convinced for the longest time growing up that fire trucks were built to start fires, not extinguish them. Ahahahahahahaha, same. I thought the hose was a flamethrower.