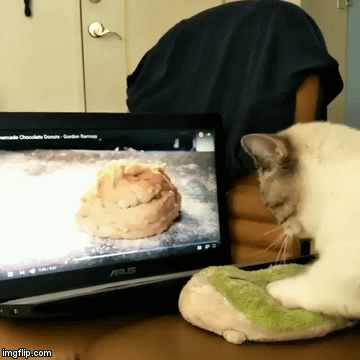 This is a video of Pooky the munchkin cat kneading a pillow while taking instructions from Gordon Ramsey about how to properly knead donut dough. It's very similar to this kneading cat watching a cooking show that I posted earlier this year, and I even referenced Gordon Ramsay in the article. How about that! I guess it's just another case of life imitating art. "What you do is not art." Oh really? Then how do you explain THIS? "It's a crayon drawing of a penis." Those are pastels, and I think I rest my case.
Keep going for the whole Instagram video.
Thanks to Amber, who agrees there's nothing quite as relaxing as a cat kneading your stomach while you're wrapped in a cozy blanket in front of a fire on a cold winter's day.