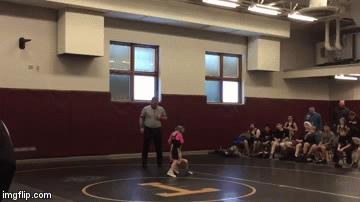 This is a video of a little boy rushing to his sister's aid during a wrestling match after mistaking it for a real fight. That's cute of him. The action is right at the beginning of the video though, so feel free to stop after that unless you're into very amateur wresting (the gif above is probably good enough already). I don't have a little brother, but i do have a little sister, and I guarantee if I was in the same situation she'd use the opportunity to join forces with my opponent and hit me with a flying elbow or leg drop. One time I coughed at the dinner table and she smacked me across the back with a chair and claimed she thought I was choking and my parents still let her have dessert.
Keep going for the video.
Read More:
awww
,
break it up! break it up!
,
brother
,
children
,
doing battle
,
don't sorry sis i've got you!
,
fighting
,
i'll rip his arms off!
,
kids
,
relationships
,
siblings
,
sister
,
so you didn't explain this to him at all before you brought him to the match?
,
sports
,
to the rescue!
,
video
,
wrestling