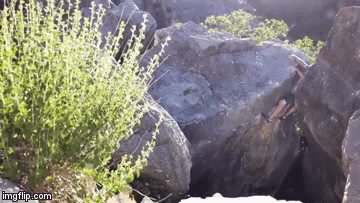 This is painful video from climber Brian Koralewski of his attempted climb of a boulder V6 rock climb in Little Rock Canyon near Provo, Utah when a large piece of the rock comes off in his hands and falls on top of his legs. You can actually tell the rock is structurally compromised when he first sticks his hand in the crack and all that dust puffs out from its movement. Brian sustained a broken fibula and partially torn tendon, but was able to hike the 1/4 mile back to his car and drive himself to the hospital. He's since fully recovered from his injuries and back to climbing again, although presumably just the rock wall at his local Family Fun Center.
Keep going for the video.
Thanks to Greg C, who's not convinced Brian wasn't trying to make his own, real found-footage version of 127 Hours.
Read More:
be careful out there!
,
body parts
,
breaking things
,
breaking yourself
,
dammit rock you had one job
,
falling down
,
filming yourself
,
honestly that could have been even worse
,
hurting yourself
,
no thank you
,
ouch
,
pain
,
rocks
,
safety first
,
so that's what that looks like
,
video
,
well just be thankful it didn't fall on your head