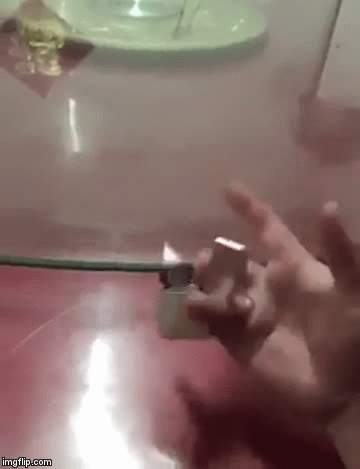 Note: The gif doesn't really do it justice but I felt it was better than a couple screencaps so just watch the video.
This is a short video of some guy flipping a Zippo around, igniting his finger, then using it to set his table on fire. It almost looks like a disco party the way the blue flames dance around the table. This guy seems like he'd make a pretty cool friend. I mean, provided you don't mind catching fire every once in a while, which I don't. One time I even set myself on fire just to leave work early, and that was right now.
Keep going for the video while I set the fire sprinklers in the building off and everyone declares me a hero.
Thanks to Alan, who agrees there's no problem fire can't solve.
Read More:
burn baby burn
,
encore! encore!
,
fire
,
fire in all the holes!
,
fire in everybody's holes
,
fire in the hole!
,
fire in your hole!
,
having a great time
,
heck yeah
,
i am into this
,
just fyi there's a 100% chance i burn my apartment building to the ground trying to replicate this trick this weekend
,
lighter
,
more of this por favor
,
sweet
,
today's theme is fire
,
tricks
,
yes
,
you know how i feel about fire