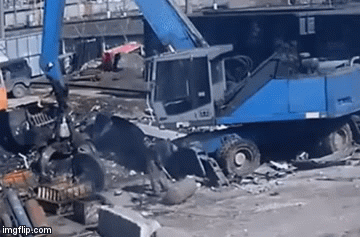 This is a video of a man who cuts into a gas cylinder, then gives it a kick after it starts spewing fire, presumably because his quick thinking led him to believe that fiery gas cylinders, like humans, should stop, drop and roll. He was wrong. Thankfully he manages to escape without burning himself to a crisp (although he definitely can't grow eyebrows anymore), but that expensive looking excavator behind him doesn't make it. Obviously, this man, like every single one of my friends, is not the kind of person you want around in the event of an emergency.
Keep going for the video while I speculate whether or not this guy was trying to cut the torso for a homemade sex robot.
Thanks to Devil Dave, who probably convinced him to cut that cylinder in the first place.
Read More:
accidents
,
and just what exactly did you think was going to happen
,
burn baby burn
,
fire in all the holes!
,
fire in the hole!
,
fire in your hole!
,
having a terrible time
,
hmm
,
lucky to be alive
,
playing with fire
,
problem solving
,
smart thinking
,
so did things go the way you'd hoped or what?
,
solving problems
,
that wasn't supposed to happen
,
woopsie