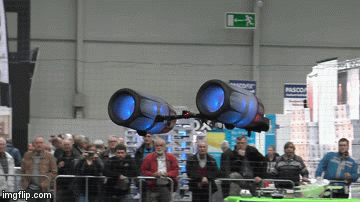 These are a couple videos of the Star Wars podracer R/C tricopers built and flown at recent R/C modeling events in Germany. The first video is of a single Anakin Skywalker pod racer (above) with the lights on, the second is of a bunch of them with the lights off. As far as custom copters go, I have to admit these are some pretty sweet ones. Could you imagine if these had been commercially available in 1999 when The Phantom Menace came out? So many more people my age would be wearing eyepatches now. Which, FUN FACT: sometimes I would wear an eyepatch when I was in high school (I was going through a pirate phase) but my mom made me stop because "It's gonna make your eye lazy" and "You really shouldn't drive like that." Thank God she never caught me driving with my peg leg and hook hand.
Keep going for the videos.
Thanks to Patrick, who informed me he's building himself a shrink ray so he can fly one of these and complete his life.
Read More:
clever
,
cool
,
copters
,
count me in
,
everybody needs a hobby
,
good ideas
,
good job
,
i see what you did there and i approve
,
i'm flying jack!
,
models
,
podracers
,
racing
,
radio controlled
,
rc
,
smaller versions of things
,
star wars
,
sure why not
,
sweet light effects
,
things that look like other things
,
toys
,
tricopters