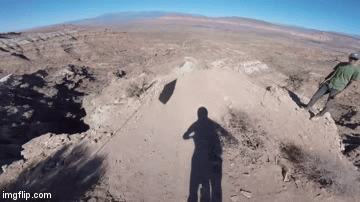 This is the helmet-cam footage of Antoine Bizet's run down the 2017 Red Bull Rampage downhill biking course. It's intense to say the least, and I'm pretty sure I flipped over my own handlebars just watching it. Now I'm bleeding. "Where from?" Everywhere. Plus I think I broke all my bones. "So you're just a blob now." Exactly -- that's a good enough excuse to leave work early, right? "Depends on how you feel about getting fired." Out of a cannon? I love it so much, I was born to circus.
Keep going for the video.
Thanks to brick, who agrees there's a fine line between extreme sports and dying.