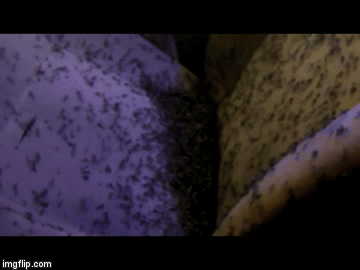 This is a video from Russia of a massive swarm of mosquitos that have laid siege to a car that was parked with the windows down during a fishing trip (presumably without the party rope lights on, but you never know). Yeah, maybe don't do that next time. Or, if you do, at least make sure to hang a bug zapper from your rearview. Or set the car on fire. I'd just set the car on fire. Well, what are you waiting for? Give me the matches, you're taking too long. Also, when that dude scoops up a handful of mosquitos off the front seat I almost lost it. "It" being any hope of a future boner.
Keep going for the video.
Thanks to EdwardVideo, who agrees this video definitely should have ended with a fireball.
Read More:
burn it all burn it all now what are you waiting for torch it up
,
car
,
dear god
,
freaky deaky
,
insects
,
meanwhile in russia
,
mosquitos
,
no thank you
,
nope
,
oh hell no
,
so that's what that looks like
,
sweet rope lights bro
,
well -- looks like we're walking home
,
you've got to be kidding me