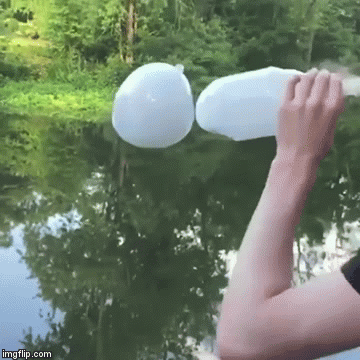 This is a video of a guy blowing a large bubble, filling it with vape, then releasing the bubble to bounce around on a pond, where it eventually becomes one with the pond before bursting. When reached for comment about the trick, Aquaman informed me there's been a drastic rise in vaping fish, although he didn't confirm if you can catch them with fidget spinners.
Keep going for the video.
Thanks to my buddy Dave L, who agrees it's only a matter of time until somebody learns how to blow a vape cloud stairway and climb it.
Read More:
be honest -- did that bubble blower of yours used to be a gravity bong or not?
,
being one with nature
,
blowing bubbles
,
everybody needs a hobby
,
fish
,
gone finish'
,
having a great time
,
hell if i know
,
i'd rather be fishing
,
interesting
,
neato
,
pond
,
smoke
,
smoke on the water -- fire in the sky!
,
so that's what that looks like
,
sure why not
,
tricks
,
vape
,
vaping
,
water