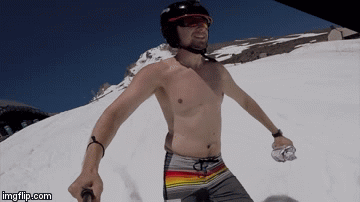 Because this is the internet and the internet doesn't know what is right or wrong, here's a video of a shirtless skier with the video stabilized so that his nipple is always perfectly in the middle of the frame. It was kind of hypnotic to watch and I'm not convinced my mind is highly susceptible to influence now. I felt like his nipple was speaking to me. "What did it say?" Quick, pinch and twist me -- hard!
Keep going for the whole video while I set my computer on fire so I can't use it over the weekend because I need a break after this.
Thanks to Martin, I think.