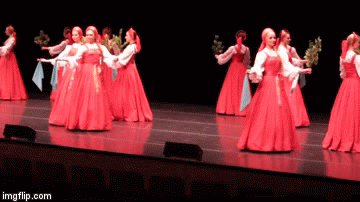 Note: The GIF doesn't do it justice because of the crappy framerate, watch the video. Things get exciting around 0:30 if you absolutely can't wait.
This is a video of the Berezka Dance Ensemble performing a dance made up of a series of floating steps invented by Nadezhda Nadezhdina, who created the ensemble. They remind me of the little people who come out of a really fancy cuckoo clock when it strikes on the hour. They move so smoothly It's really hard to believe they aren't floating at times. Of course the long dresses help too. Or, who knows, maybe they're all witches. I saw the witch who lives in my building float down the hallway once when she thought nobody was looking. I was looking though the peephole though, because I heard a noise and thought it was the pizza man. I think she was putting a hex on the guy who lives next door to me. She doesn't like him because he drank beer with her son once a few years ago. Her son is well over 40, by the way. I really want to move but I think there's a spell stopping me. Long story short if you're into black magic I could use your help.
Keep going for the video while I practice the worm and crack all my ribs.
Thanks to Sandra, who wants to see them all do the robot.
Read More:
body parts
,
color me impressed (also color me a picture of you and me standing out front of our house with a white picket fence with 2.3 kids and a dog and a cat or whatever)
,
dancing
,
floating
,
impressive
,
oh wow
,
russia
,
skills
,
smooth as a hot knife through butter
,
smooth as silk
,
smooth moves
,
so that's what that looks like
,
video