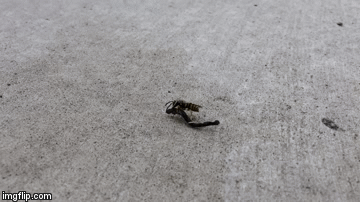 This is a very short video of a wasp riding its own hoverbike. Although that hoverbike looks suspiciously like a dead, dried up worm to me. *shrug* Maybe he has bad vision and the hornet working the hoverbike dealership took advantage of him. We've all been sold lemons before. "Those are limes." And that's how limeade was invented.
Keep going for the video of the wasp rocking its Nimbus 1/2000th.
Thanks to Terrance, who agrees this wasp belongs on a Quidditch team or chasing Ewoks through the forests of Endor.