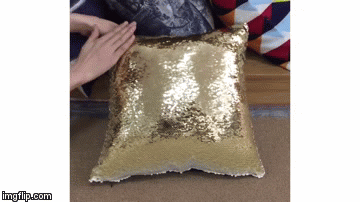 These are the Pearl Reveal Cushions designed and sold by Pardeep S. She came up with the idea after a neighbor kept stopping by uninvited and overstaying her welcome, which was zero seconds to begin with. Each pillow is covered in sequins that, when oriented in one direction, appear gold, but when they're brushed in the opposite direction reveal a hidden message. A cushion cover (sans pillow insert) costs $17, and with the a pillow inside, $28. Hidden messages options include 'I HATE PEOPLE', 'BYE', 'CAN YOU NOT', 'F**K OFF', 'GO AWAY', 'LEAVE ME ALONE', and a middle finger. Obviously, I just bought the entire set for my grandma and can't wait till her nosy neighbors come over to gossip and see them. I'm hoping at least one of the old bags faints and I can hide her teeth.
Keep going for a couple more shots and the whole video.
Thanks to Alyssa, who agrees passive aggressiveness is the least aggressiveness. I like to confront people straight to their faces.
Read More:
accent pillows
,
couch
,
different strokes for different folks
,
hidden
,
hiding in plain sight
,
interior design
,
man i love some good pillow talk i'm good at it too i can chat about anything before bed i love it
,
passive aggressive
,
pillows
,
real products that exist
,
secrets
,
sofa
,
soft
,
sure why not
,
tell me how you really feel
,
yeah you did