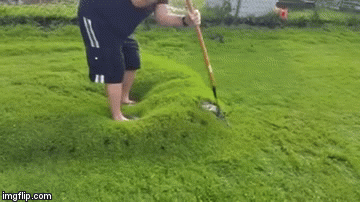 This is a video of James Callender popping a bubble of water trapped under his lawn after heavy rains in Cambridge Springs, Pennsylvania. It was fun to watch, but still, you have to be careful about these things. Because one minute you're popping a lawn bubble in your yard, and the next the mole people have made you queen for saving their flooded city. Not that being a queen wouldn't be sweet, but you are responsible for producing all their molebabies. Plus I haven't eaten a worm since tenth grade biology.
Keep going for the video, it really starts spewing around 1:40.
Thanks to Cyndi M, who agrees he should have popped it doing donuts in his yard in a pickup truck.